eco
tip
Keeping Our Lakes Safe
Natural Approaches Help Prevent Harmful Runoff
by Darla Nagel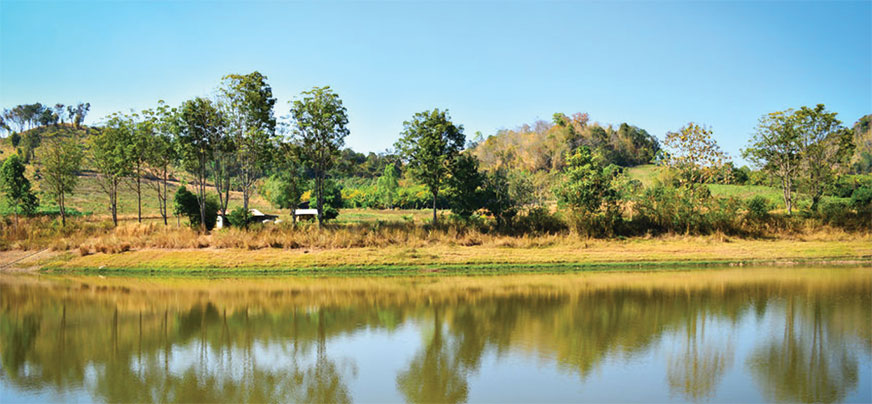 Harmful algal blooms are a growing problem in the Great Lakes, blocking sunlight and consuming oxygen needed for plant and fish species to survive. One cause of the harmful algal blooms is high levels of nitrogen and phosphorous, which come from polluted runoff into Michigan rivers and lakes.
That runoff may be coming straight from your yard. Lawn care and farming products, including herbicides, pesticides, fungicides and fertilizers, typically contain nitrogen and phosphorous that wind up in waterways, especially during periods of heavy rain as seen during spring this year.
According to Jeff Copeland, owner of A-1 Organic Lawns and an environmental activist since the 1970s, "Fertilizer runoff, number one, is playing a huge part in the eutrophication of the lakes."
Eutrophication refers to excess nutrients that spur dense algae growth.
"Anything that can gravitationally flow to the lakes will go there," Copeland adds.
The resulting toxins and toxic cyanobacteria don't just harm fish and fowl. Humans are also sickened through recreational contact with contaminated water and through drinking water and seafood taken from the Great Lakes and polluted inland lakes and rivers.
"Everyone needs to do something," Copeland says. He advises living on a chemical-free lawn. Having a beautiful lawn isn't worth ultimately polluting water. Humates, natural fertilizers free of manure and synthetic ingredients, provide nutrients to plants and condition soil while preventing runoff.
For those living on a lake or pond where algae is a problem, don't make the problem worse by treating with algaecides and other synthetic chemical products . Doing so can increase toxin levels. Instead, use natural approaches to balance the nutrients.
"It's all about nutrients," says Copeland.
"Speak out to local governments about unsafe use of chemicals and ineffective wastewater treatment," Copeland adds, "Don't just sit and take it."
Darla Nagel is a writer for Natural Awakenings based in Flushing, MI.
To connect with Jeff Copeland, and help maintain eco-friendly lawns and lakes: call A-1 Organic Lawns, 248-889-7200 or visit A-1OrganicLawns.com.