Gain freedom around any issue!
Emotional Eating!

Smoking, drinking, etc.

Negative patterns

Work stress

Self Talk

Fears, Doubts...
Emotional Eating Transformed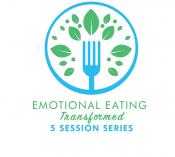 What emotions are you feeding?
Emotional Eating Transformed series is for anyone who struggles around food and weight.
You'll experience a profound perception change with awareness and accountability.

Feedback from participants:
"The first time I realized that EVOX was working was someone at work brought in a Butterfinger cake. Not only didn't I eat a piece, I didn't obsess about it all day long and I brought home a piece for my husband. My body didn't crave the chocolate and my mind was ok with the choice!"

"I was raised in the clean plate club and haven't finished a full plate in weeks. I'm even putting less on my plate and now think of food as fuel for my body."

"I participated in the Emotional Eating Transformed Series with a lot of weight to lose, to break my cycle and have permanent change. Currently, 20 pounds down and have a long way to go."